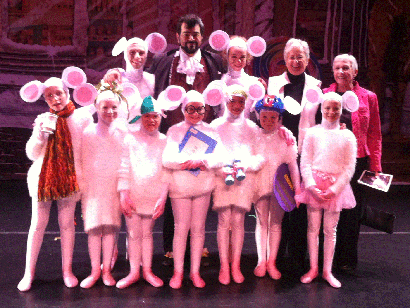 Zan and Linda and the mice at the Nutcracker
Check Us Out!
We're in the Southwest Airlines in-flight magazine, Spirit!
Look for the spread on Greenville, SC.
We "sparkle don't we? "Hooray!!"
---
Vision Airlines In-Flight Magazine
Vision Airlines began serving Greenville this summer. As an introduction to Greenville, their in-flight magazine featured Mice on Main.
Follow Mice on Main On Facebook

We decided it would be fun to have our own Facebook Page. If you like it, click the Facebook icon on our Home Page!
Thanks to all of you who follow us and who look for the Mice on Main Street!
---

Mouse Question of the Week
Which mouse loves to write poetry? Can YOU write a poem about the mice on Main Street and send it to us? We would love to put it on our website and include it on our Facebook page.
People from all over love our mice!
In addition to Greenvillians, visitors from everywhere were in Greenville this weekend!
People from out of state who purchased books, t-shirts, and games were from Georgia, Ohio, Washington state, Pennsylvania, Florida, Illinois, Louisiana, Virginia, Iowa, Maryland, North Carolina, Massachusetts,--and Milan, Italy. Our books, t-shirts, and games are everywhere!
Who Looks for the Mice on Main Street?
Couples, families, business groups, and people out on their own were looking for the mice. Thanks to Jimmy, all the mice were in their places, ready to greet the scavenger hunters. Uncle Miles, who's part Italian, loved meeting seven-year-old Thomas from Milan, Italy.
Something New!!!!!
Purchase the book, Mice on Main, on Amazon.com! Click Here to buy now!
Also, find our books, games, and t-shirts at the fine Greenville retailers listed on our "Where to Buy" page.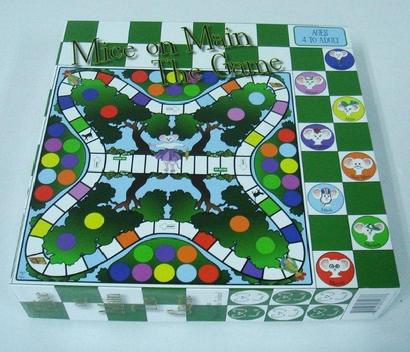 Mice on Main: The Game: $19.95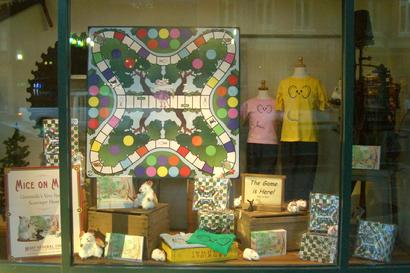 Here's the Mice on Main window at Mast General Store. Find "Mice on Main" games, books, and t-shirts for sale at Mast.
"Mice on Main" books, t-shirts, history, where to buy, mouse hunt tips: Greenville, SC
M
Mice On Main©
Copyright 2008-2014 Linda Kelly and Zan Wells